Bach Rescue Remedy Sleep Spray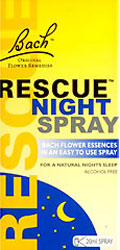 Bach Rescue Night is a unique combination of the flower essences of Rock Rose, Impatiens, Clematis, Star of Bethlehem, Cherry Plum with White Chestnut. Bach Rescue Remedy is the most famous combination of flower essences developed by Dr. Bach. The Bach essence White Chestnut has been used to help switch off the mind from unwanted repetitive thoughts. These flower essences combine to help you enjoy a natural night's sleep.
Dosage:
Use one or two sprays into the mouth at night as required for sleep.
Precautions:
Do not spray into the throat or eyes.