Bach Rescue Remedy Spray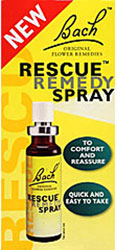 Bach Rescue Remedy Spray provides support at times of emotional demands such as before a driving test, interview, exam or flight, or when you simply need a little help.
This quick and easy to use format means that comfort and reassurance is always close at hand.
The most famous and widely used of the Bach Flower Remedies is a combination of five of the Bach Flower Remedies; Impatiens, Star of Bethlehem, Cherry Plum' Rock Rose. Clematis.
Bach flower remedies encourage the body's own potential to look after itself by helping to restore a more positive outlook at times of emotional change.
Dosage:
Use one or two sprays into the mouth as often as required.
Precautions:
Do not spray into the throat or eyes.