First Light Crisis support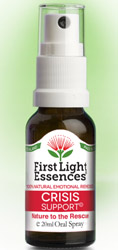 Keyword: Inner Peace and Calm
Negative Condition: Stress, worry, overwhelm, nervous (emotional) tension, anxiety, irritability
Positive Outcome: Poise, tranquility, calm, self-assurance
A highly effective calming plant extract formula. Supports natural emotional balance during the times of stress.
Helps to calm down and bring inner peace.
Can be used when wanting to be able to confidently meet the demands and pressures of daily life.
Ingredients: Alkaline mineral water (aqua), natural preservative (pure alcohol), aqueous botanical infusions of Native Flax (Phormium tenax), Coastal Lobelia (Lobelia ancepts), Karamu (Coprosma robusta), Koromiko (Hebe stricta), Golden Corokia (Corokia cotoneaster), Matata (Rhabdothamnus solandrii).
Dosage:
Spray 2-4 times under the tongue