Artemis Cool and Calm tea 30g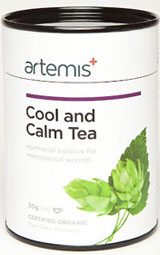 Cool and calm tea cares for you naturally during the peri-menopausal period.
It supports and balances the female body's response to hormonal changes.
It helps to balance temperature and menstrual flow.
Assisting the ability to relax and rest.
Dosage:
Take 1-3 cups daily an enjoyable health drink to support you naturally during menopause. For full regulating benefit and temperature balance take 3-5 cups daily until new hormonal regime is well established. Take as an evening drink ?? to 1 hour before bedtime for a restful sleep.
Precautions:
If symptoms get worse, please consult you health practitioner