Artemis Healthy Heart Tea 30g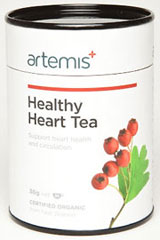 Healthy Heart Tea supports the health of heart and circulation. It assists the proper functioning of the heart muscle and supports a healthy blood pressure, a calm rhythm and regular pulse. Rich in antioxidants. Suitable for adults and children.
Dosage:
Enjoy 1-3 cups daily as a heart strengthening drink. For full supportive benefit take 3 cups daily for 6-12 weeks. Can be safely taken longer for maintenance.
Precautions:
If symptoms get worse, please consult you health practitioner