Artemis Itch Calm Cream 50mL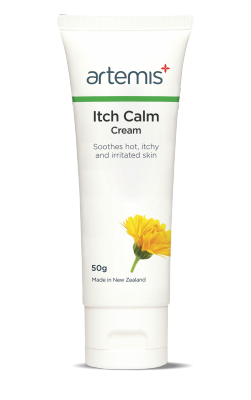 Soothes dry, itchy and irritated skin. 
This powerful balm combines traditional plant medicine to ease discomfort from irritated skin. Itch Calm Cream is a steroid-free, antiseptic cream that soothes insect bites, sunburn, rashes or bee stings. The results are cooling and instant which makes this cream ideal for the family first aid kit. Apply Itch Calm Cream liberally. For irritated skin, use in conjunction with Itch Calm Oral Liquid.
For fast soothing skin relief, rub on Itch Calm Cream.
Dosage:
Apply to affected area 3-4 times daily. Can be used more frequently if required. For best results in prolonged situations, use in combination with ARTEMIS Itch Calm Tincture.
Precautions:
External use only. Discontinue use if irritation occurs. If symptoms persist, see your health professional.