Artemis Strain Repair Cream, 50g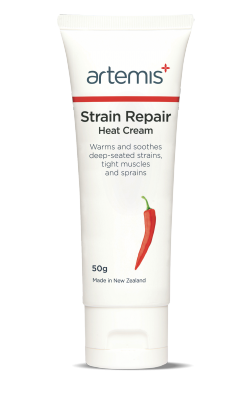 For deep strains and tight muscles.
This powerful sports cream combines traditional plant medicine to stimulate circulation and recovery in strained muscles. Strain Repair Cream is formulated with Cayenne powered heat. This heat penetrates deep to soothe bruised tissue and overexerted muscles, tendons and joints. Be careful, the heat can be intense. We recommend children and the elderly use our Tissue Repair Cream instead. Combine with Tissue and Strain Repair Oral Liquid to support healing from within.
Massage Strain Relief Cream for heat and relief.