Artemis Rest and Relax tea 30g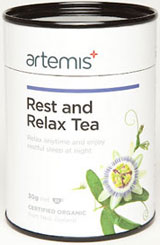 Relax and Rest Tea nourishes a challenged and exhausted nervous system and relaxes body and mind. It soothes and calms during the day, helps to unwind in the evening and promotes restful sleep at night. Suitable for adults and children.
Dosage:
Enjoy 1-3 cups daily as a relaxing health drink. To support full nerve restoring benefit take 3 cups daily for 6-12 weeks. Can be safely taken longer for maintenance. Take as an evening drink for winding down or drink a cup ?? to 1 hour before bedtime for a restful sleep.
Precautions:
If symptoms get worse, please consult you health practitioner