Solgar Echinacea Golden Seal Cat's Claw Complex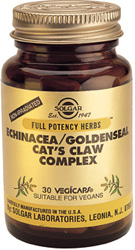 This potent formula provides powerful immune support and has a soothing restorative effect on respiratory mucus membranes. The synergistic effects of Echinacea, Cat's Claw and Golden Seal make this formula ideal for the winter season. Solgar carefully selects only the best quality herbal ingredients from sustainable sources and are non-irradiated for optimal purity and potency. All Solgar herbal products contain a natural antioxidant blend to protect the herb's freshness, stability and integrity throughout their shelf life, and are suitable for vegans.
Precautions:
Not suitable during pregnancy or breastfeeding unless under advice of a healthcare professional.