Kiwiherb Herbal Throat Formula 100ml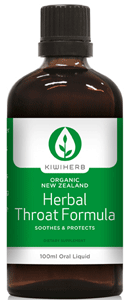 A high potency certified organic combination of three highly effective and proven herbs Echinacea purpurea, Thyme & soothing Liquorice. These herbs target the cause of a sore throat while also helping soothe the irritation. Herbal Throat formula is ideally used as a gargle and then swallowed, providing a double action effect to rapidly soothe the throat and provide prolonged immune support.
Dosage:
Adults 5-10ml Children 6-12 2.5-5mls Dilute in 25-50ml of water or juice. Gargle and hold in mouth and throat for 30 seconds before swallowing. Take up the three times daily
Precautions:
During pregnancy use only as a gargle, do not swallow. Avoid prolonged use (over 6 weeks) for those with high blood pressure.