Solgar Ultimate Bone Support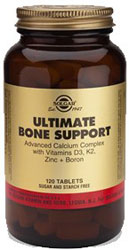 Bones require more than just calcium. This specially formulated nutrient complex contains all the vital minerals and vitamins necessary for strong healthy bones including calcium, magnesium, boron, zinc, and vitamins D and K. The combined effect of these nutrients ensures calcium is deposited and utilised properly in bone tissue and not in soft tissues in the body.
Dosage:
Take two tablets twice daily as directed,
Precautions:
Take at least 2 hours away from medications.