Solgar Bromelain 500mg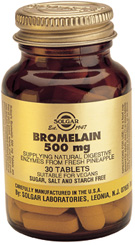 Bromelain is a natural protein digesting enzyme sourced from pineapple that has two functions as a health supplement. When taken with meals Bromelain supports healthy digestion of protein, especially beneficial for those experiencing digestive discomfort after eating. When taken between meals Bromelain targets very different areas, specifically joint comfort, wound healing and recovery from sports injuries, and mucus build up in the sinuses and respiratory system.
Precautions:
Caution with Warfarin. Take away from medications.