Thompsons Ultra B tabs (60)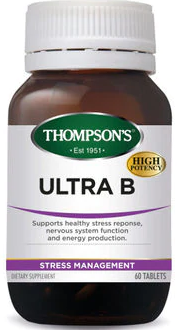 Thompson's Ultra B is a high potency B Complex with a selection of key nutrients and herbs designed specifically to aid the body in dealing with stress. Ultra B supplements the body's normal requirements plus those additional needs bought about as a result of modern demands.
Dosage:
One tablet twice a day (with food) or as advised by your health professional.
Precautions:
Not recommended for use while pregnant.
Use only as directed and always read the label.
Vitamin supplements should not replace a balanced diet.
If symptoms persist, consult your healthcare practitioner.
Keep out of reach of children.
Do not use if bottle and/or cap seal is missing or broken.
People on prescribed medicines check with your doctor first. May potentiate the effect of hypnotic medicines. Care with driving and operating machinery.