Thompsons Vitamin C 1000mg Chewable, 150 tablets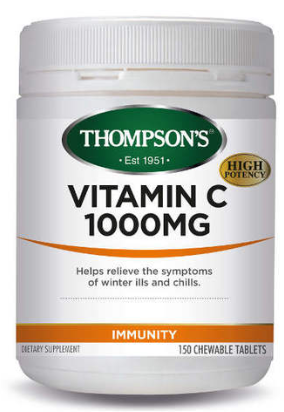 Thompson's Chewable Vitamin C 1000mg is readily absorbed vitamin C complex, containing added bioflavonoids.

A powerful antioxidant formulated to be gentle on the stomach
Pleasant tasting chewable tablet contains natural orange flavour
Helps in times of winter ills and chills
Benefits:
Helps to provide relief from winter ills and chills.
Supports healthy immune function
Aids tissue repair and wound healing
Aids in iron absorption
Antioxidant
Supports general health and wellbeing
Suitable for:
Individuals who need immune support while affected by winter ills and chills
Individuals who are recovering from surgery
People who seek a daily supplement to maintain a healthy immune system
Those who seek a daily supplement to support general wellbeing
Dosage:
Adults' One to two tablets daily or as professionally advised
Precautions:
Use only as directed and always read the label.
Vitamin supplements should not replace a balanced diet.
If symptoms persist, consult your healthcare professional.
Not to be used in children under two years of age without medical advice.
Contains glucose.
Keep out of reach of children.
Do not use if bottle and/or cap seal is missing or broken.