Trilogy Aromatic Body Oil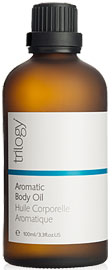 A fast-absorbing blend of nature's most nutritious pure plant oils to moisturise and soften. Enjoy the delicate and intoxicating aroma-theurapeutic fragrance that relaxes your mind and alleviates stress while you deliver optimum nourishment to your skin.
Dosage:
Smooth over skin using long strokes, gently massaging into areas of tension with care.