Holistic Hair Hydrating Shampoo 250ml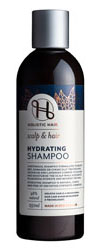 Holistic Hair Hydrating Shampoo 250ml
Product description: A botanical shampoo formulated to revive a dry scalp and dehydrated hair. Geranium & Lavender combine to cleanse and moisturise the scalp while Avocado & Palmarosa hydrate and nourish the hair.
Key ingredients: Avocado, Geranium, Lavender, Palmarosa Suitable for: Dry Scalps and/or Dehydrated Hair Lovers of Natural Plant Oils Moisturising and Hydrating
How to use: Shake bottle well and apply Hydrating Shampoo to thoroughly wet hair. Lather at the roots, massaging in for two minutes and then work your way down the hair. Rinse with warm water and repeat if desired. Finish with Hydrating Conditioner or your favourite Holistic Hair conditioner.
Dosage:
Ingredient List: Pure Living water Sodium laurol sarcosinate (plant derived) Disodium Laureth Sulphosuccinate(plant derived) Cocomidopropyl Betaine(Coconut derived) Laurel Glucoside Decyl Glucoside organic avocado oil Persea Americana Polyquat 7 Xanthan gum Geranium (pelargonium graveolens) certified organic Palma Rosa (cymbopogon Martini) Lavender (Lavendula angustifolia) Nettle (Utrica dioical )Sodium Hydroxymethylglycinate 0.05% amino acid