Holistic Hair Scalp Treatment Oil 50ml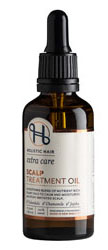 Holistic Hair Therapy for Irritated Scalp 50ml
Product description: A soothing blend of nutrient-rich plant oils to calm and moisturise an itchy irritated scalp. Calendula, Lavender, Chamomile, and Patchouli essential oils unite to relieve itching and inflammation. Sweet almond and Jojoba oils reduce dryness, flaking and soften hard skin plaques.
Key ingredients: Sweet Almond, Calendula, Sunflower, Jojoba, Lavender, Chamomile, Patchouli
Suitable for: Itchy or irritated scalps Calming inflammation Moisturising a dry scalp Removing flakes & plaque build-up Scalp massage oil
How to use: As a weekly wash-out treatment: part your hair into sections; apply the oil using the dropper, sufficient to lightly cover the scalp. Massage in & leave for a minimum of 30 minutes or preferably overnight. Wash out using a Holistic Hair shampoo. As an everyday leave-in moisturiser: use sparingly and only on affected areas to moisturise and protect the scalp.