24 Basic Homeopathic Remedy Kit (200c)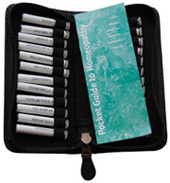 Comes in a convenient leather zip pouch with a pocket guide on how to use the remedies. The basic 24 remedy kit contains: aconite, apis mel, arnica, arsenicum album, belladonna, bryonia, cantharis, chamomilla, ferrum phos, gelsemium, hepar sulph, hypericum, ignatia, ledum pal, mag phos, natrum mur, nux vomica, phosphorus, pulsatilla, rhus tox, ruta grav, silica, sulphur and urtica urens (in 200c) We can also custom-make a 24 remedy kit with your choice of remedies.
Dosage:
Suck one or two pills as needed for symptom relief.
Precautions:
If symptoms do not improve after six doses, seek advice from your health practitioner.