New Era Kali mur 5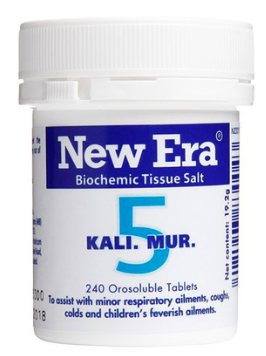 New Era Tissue Salt No.5 Kali Mur is used for minor respiratory ailments, coughs, colds, children's feverish ailments.

More about New Era tissue salt:
Homoeopathically prepared remedy.
No side effects from the active ingredients.
Simple to take and safe with other medicine or supplements.
No danger of overdose.
A small percentage of people are sensitive to lactose, which forms the base of the tablets, and those people should check with their doctor before taking New Era tissue salt.
Tablets are pleasant tasting and dissolve instantly to get to work straight away.
Dosage:
Acute: Four tablet every two hours until symptoms improve Chronic: Take four tablets three times daily.
Precautions:
If symptoms do not improve or get worse, please seek the advice of your health practitioner.