Solgar 5-HTP 30 caps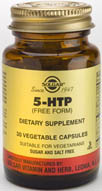 Solgar 5-HTP is a naturally derived high potency formula designed to support serotonin production.
Serotonin is made in the body from 5-HTP and is involved in mood, sleep and appetite regulation.
5-HTP is used to support healthy sleep patterns, balanced mood and emotional calm. It can also be of benefit for those experiencing sugar cravings.
Dosage:
Take one or two capsules at night before bed.
Precautions:
Not to be taken with antidepressant medication. Not suitable for children or during pregnancy or breastfeeding.