Solgar L-Arginine / L-Ornithine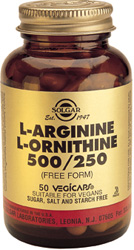 This combination of amino acids are of use for athletes and weight trainers to support healthy muscle metabolism and recovery.
Precautions:
Not suitable during pregnancy or breastfeeding unless under advice of a healthcare professional. Not suitable for those with schizophrenia or serious kidney or liver disease. Avoid use during Herpes infection.