Solgar L-Carnitine 500mg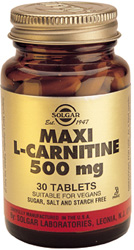 L-Carnitine is required to transport fat into cells for energy production. The heart and muscles are particularly in need of L-Carnitine due to their high energy requirements. L-Carnitine is especially suited to support cardiovascular health and for those experiencing ongoing fatigue.
Precautions:
Not suitable during pregnancy or breastfeeding unless under advice of a healthcare professional.