Solgar L-Theanine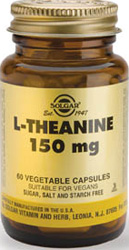 Naturally found in Green Tea, L-Theanine is proven to soothe nervous tension and support mental calm and focus during times of stress.
L-Theanine is quick acting, non-drowsy and is an effective and well tolerated way to soothe frazzled nerves and help ease a worried, anxious mind.
Precautions:
Not suitable during pregnancy or breastfeeding unless under advice of a healthcare professional. Caution with antianxiety or antidepressant medication - take separately.