Solgar Betaine Hydrochloride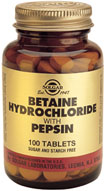 Solgar Betaine Hydrochloride provides a safe and effective dose of Hydrochloric acid (stomach acid) with pepsin to aid protein digestion when taken with meals. Many people, especially the elderly and those under stress, have low production of stomach acid which can lead to upper digestive discomfort, belching and bloating. Prolonged poor digestion can lead to overall poor health, and supporting healthy digestion is important for long term health and wellbeing. Tablets are to be swallowed whole with meals DO NOT CHEW.
Dosage:
Take one tablet after meals.
Precautions:
Do not use in cases of stomach or duodenal ulcer. Tablets are to be swallowed only - DO NOT CHEW.