Nordic Naturals Omega 3 Lemon x120 Gels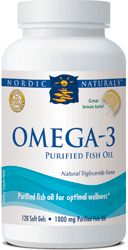 Nordic Naturals Omega 3 Formula provides an excellent source of Omega 3 fatty acids in their naturally existing ratios. Omega 3 fatty acids are essential fatty acids (EFAs); which we need daily and must be obtained from our diet. Omega 3 essential fatty acids derived from marine origin are known to influence human health, and are essential for growth and development throughout all stages of human life. This product contains high amounts of the Omega 3 fatty acids eicospentaenoic acid (EPA) and docosahexaeoic acid (DHA) and vitamin E. Omega 3 support proper cellular flexibility and cardiovascular health. Nordic Naturals Omega 3 formula is a great tasting, fresh and pure source of Omega 3s. Conditions which Omega 3 is beneficial for include: asthma, depression, diabetes, joint pain, inflammatory bowel disease, prostate health, and stress.
Precautions:
Caution: Consult with your physician before using this product if you are pregnant, diabetic or allergic to iodine. Do not take this product if you are using blood thinners or anticipate surgery. Keep out of the reach of children.