Artemis Breastfeeding Tea 30g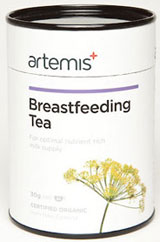 Breastfeeding Support Tea cares for your baby and you during breastfeeding. It assists in the regular production of breast milk and helps to maintain good quality and flow. It also supports the uterine recovery after birth and the healthy digestive system of mother and baby. Nourishing and soothing.
Dosage:
Start taking after birth or when required.
Enjoy 3-5 cups daily as a nourishing, mineral rich health drink.
Suitable throughout the lactation period.
This soothing tea can be given directly to babies for digestive comfort.
Precautions:
If symptoms get worse, please consult you health practitioner