Artemis Kidney Cleanse tea 30g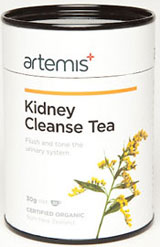 Kidney Cleanse Tea flushes and tones the urinary tract system. It supports normal kidney and bladder function and the regular excretion of urinary irritants, water soluble wastes, toxins and excess body fluid. The cleansing encourages a clear skin. Alkalising and remineralising; especially important after sport and in sub-optimal health. Helps to eliminate odour. Suitable for adults and children.
Dosage:
Acute: Take 3-5 cups daily to support flushing of the urinary tract and help to reduce irritability. Take 1-3 cups daily between meals for regular cleansing. Best to take last cup by 5pm to ensure uninterrupted bed rest. For full benefit take 3 cups daily for 6 weeks. Can be safely taken longer for maintenance.
Precautions:
If symptoms get worse, please consult you health practitioner