Artemis Liver Detox tea 30g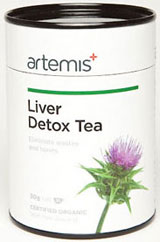 Liver Detox Tea cares for your regular liver cleansing to enhance good health and vitality. It assists in maintaining normal cholesterol levels and supports liver, gallbladder and pancreas health and function. Rich in antioxidants. Suitable for adults and children.
Dosage:
Suitable for adults and children. Take 1-3 cups daily for maintaining good health. Take first cup before breakfast for best detoxification effect. For full detoxifying benefit take 3 cups daily for 6-12 weeks before meals. Can be safely taken longer for maintenance.
Precautions:
If symptoms get worse, please consult you health practitioner