Artemis Sleep Tea 30g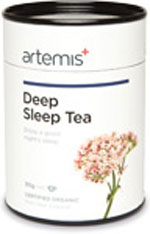 Sleep tea to aid quality and duration of sleep Support falling and staying asleep Support night time recovery in stressful times Wake up refreshed Suitable for adults and children Ingredients 100% certified organic herbs of Valerian root (Valeriana officinalis), Lemon Balm (Melissa officinalis), Woodruff (Galium odoratum), Passionflower (Passiflora incarnata), Licorice (Glycyrrhiza glabra), Hops (Humulus lupulus). No sugar, caffeine, artificial flavours, colours, preservatives. Lactose and gluten free.
Dosage:
Take one cup 30 minutes before bedtime to support deep and refreshing sleep. Repeat during the night if needed. In persistent sleep disturbances take each night for 3-6 weeks. It can be safely taken longer to support a natural sleep cycle. For sleep disturbances in menopause, take additionally 2-3 cups of ARTEMIS Cool & Calm Tea during the day. Babies: 5ml (1 teaspoon) when needed 6-12 months: 10ml 1-4 years: 20-40ml 4-10 years: 50-100ml
Precautions:
At the recommended dosage no clinically relevant herb-drug or TCM interactions are not documented. Pregnancy ' safe within range of recommended dosage. Breastfeeding ' compatible within range of recommended dosage. Discontinue use if irritation occurs. No restriction on long-term use.