Solgar Milk Thistle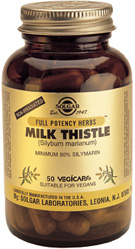 Solgar Full Potency Milk Thistle capsules provide high quality Milk Thistle for proven liver support.
Milk Thistle is a widely respected herb to protect and support a healthy liver.
Milk Thistle can also be of benefit for those with skin disturbances due to its detoxifying effects.
Solgar carefully selects only the best quality herbal ingredients from sustainable sources and are non-irradiated for optimal purity and potency. All Solgar herbal products contain a natural antioxidant blend to protect the herb's freshness, stability and integrity throughout their shelf life, and are suitable for vegans.
Precautions:
Not suitable during pregnancy or breastfeeding unless under advice of a healthcare professional.