Solgar Calcium Magnesium Citrate 100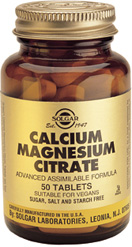 Containing a balanced 2:1 ratio of Calcium to Magnesium to maintain healthy calcium and magnesium levels in the body. The citrate form of these minerals is a well absorbed form for superior results especially in those with poor digestion. These two essential minerals offer support for a healthy cardiovascular system, maintenance of strong bones and act as a muscle and nerve tonic.
Precautions:
Take at least 2 hours away from medications.