Solgar Calcium Magnesium Plus Boron Tablets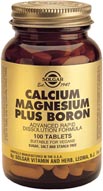 The combination of Calcium, Magnesium and Boron is especially beneficial for bone support in women during and after menopause.
These minerals are all vital for proper bone mineralisation and Boron also has a positive influence supporting oestrogen balance in the body.
This formula may also be of support for healthy joints.
Dosage:
Suck three tablets three times daily preferably at mealtimes
Precautions:
Take at least 2 hours away from medications.