Solgar Calcium Magnesium Plus Zinc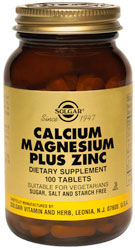 Mineral deficiencies are increasingly common in New Zealand. Calcium, Magnesium and Zinc are three of the most important minerals, crucial for bone health, hormonal balance and the healthy function of the heart and nervous system. This combination of vital minerals supports bone health, aids a healthy pregnancy, and is ideal for premenstrual support in women, or anyone with frequent skin breakouts.
Precautions:
Take at least 2 hours away from medications.