Ethical Nutrients Mega Magnesium x60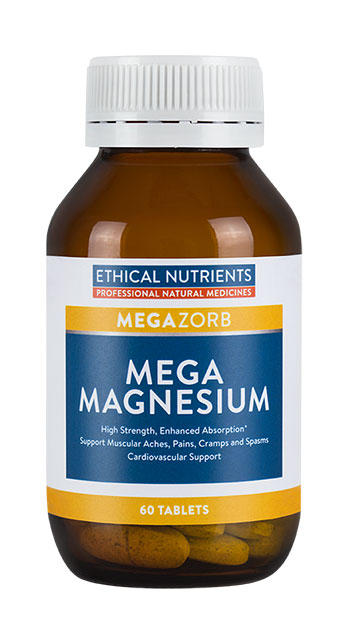 Ethical Nutrients Megazorb Mega Magnesium x60​
Magnesium plus essential minerals Zinc, Selenium & Chromium. Photo is of 120 pack.
Ethical Nutrients Mega Magnesium Tablets Support Magnesium status in the body and may:
Help maintain normal muscle and nerve function and keep bones strong.
Magnesium may help to reduce mild premenstrual fluid retention.
Symptoms of Magnesium deficiency include - muscle spasms and cramps, muscle weakness, fatigue and lethargy, increased susceptibility to stress.
Dosage:
To support healthy muscles and energy production: Take 1 tablet three times daily.
For daily magnesium supplementation: Take 1 tablet daily.
Or take as directed by a healthcare professional.

Precautions:
Meta Mag™ is a patented proprietary form of Magnesium. No added artificial flavouring, colouring or preservatives. Do not use if cap and/or bottle seals are missing or broken. Always read the label. Use only as directed. If symptoms persist consult your healthcare professional. Store below 30°C.​