Solgar Magnesium Citrate 60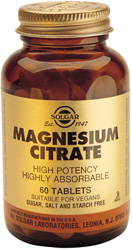 Solgar Magnesium Citrate is a well absorbed high potency form of Magnesium vital for energy production, muscle relaxation, stress and nervous system support and cardiovascular health. Sports people and anyone experiencing physical or emotional tension may be in need of extra magnesium.
Dosage:
Take two tablets daily preferably away from meals.
Precautions:
Take at least 2 hours away from medications.