Solgar Chelated Solamins Multimineral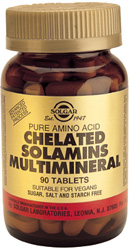 Mineral deficiencies are increasingly common due to depleted soils, refined foods and poor digestion. Solgar Chelated Solamins Multimineral formula provides 9 essential minerals in well absorbed chelated forms to help maintain healthy mineral levels in the body. This formula includes calcium and magnesium for strong bones and cardiovascular and nervous system health; zinc and selenium for immune support; iron and iodine for energy and mental function; manganese and copper for healthy connective tissue, and chromium for blood sugar balance.
Precautions:
Take at least 2 hours away from medications.