Nordic Naturals Children's DHA Strawberry - 237ml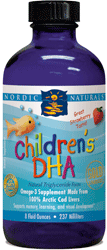 Children's DHA is a delicious way for children to supplement their diet with the essential fatty acid DHA. This fatty acid helps to support normal development of the brain and retina of infants and children. It also helps with signalling between nerve cells and enhances neurotransmitter communication. However, the effects of DHA on the nervous system may well extend beyond infancy. Young adults and teenagers given DHA have shown less aggression in response to mental stress.
Conditions for which Children's DHA is beneficial are: attention deficit disorder, asthma, autistic disorder, depression; diabetes and for the health of children. The strawberry flavoured capsules can be swallowed or chewed for a burst of strawberry!
Contains safe levels of naturally occurring vitamins A and D. Also has the additional ingredient of rosemary extract, to act as an antioxidant keeping the oil as fresh as they can be.
Precautions:
Caution: Consult with your physician before using this product if you are pregnant, diabetic or allergic to iodine. Do not take this product if you are using blood thinners or anticipate surgery. Keep out of the reach of children.