Nordic Naturals Omega LDL x60 Gels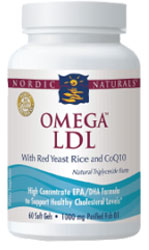 Omega LDL is a breakthrough in nutritional support for total cardiovascular health. EPA & DHA work in synergy with the powerful lipid metabolizing action of red yeast rice & CoQ10 to promote the metabolism of dietary fat and cholesterol, support healthy blood vessel function & provide antioxidant protection from damaging free radicals.
Precautions:
Caution: Consult with your physician before using this product if you are pregnant, diabetic or allergic to iodine. Do not take this product if you are using blood thinners or anticipate surgery. Keep out of the reach of children.