Source Naturals Life Force 60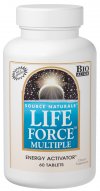 Energy Activator Life Force' Multiple, the most complete daily formula available, is scientifically Bio-Aligned' to deliver essential cellular energy and balance to vital systems and organs. For lifelong support to your brain, skin, eyes, immune, circulatory, antioxidant and energy systems, take Life Force ' and join the Wellness Revolution of preventive health care.
Dosage:
4 to 8 capsules daily with meals. Do not exceed suggested use.
Precautions:
Do not use if you are pregnant, may become pregnant, breastfeeding, or taking any form of prescription nitrate such as nitroglycerin. If you are diabetic, have any blood coagulation disorder, or are taking any prescription medicine, consult your physician before using this product. Accidental overdose of iron-containing products is a leading cause of fatal poisoning in children under 6. Keep this product out of reach of children. In case of accidental overdo