Solgar Cranberry Extract with Vitamin C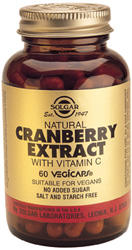 Derived exclusively from fresh Cranberries and combined with Vitamin C for immune support, this formula is designed to target urinary system health. Cranberry has been shown to provide powerful natural support for the urinary tract, however as Cranberry juice is often very high in sugar capsules are recommended to get the benefits of Cranberry without the detrimental effects of sugar.
Precautions:
Caution with warfarin and for those with oxalate kidney stones.