Solgar Dandelion Root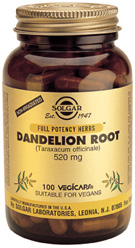 Dandelion Root has been used for centuries as a liver and bowel tonic. Ideal for those with a sluggish bowel, poor digestion especially of fats, and bloating. Solgar carefully selects only the best quality herbal ingredients from sustainable sources and are non-irradiated for optimal purity and potency. All Solgar herbal products contain a natural antioxidant blend to protect the herb's freshness, stability and integrity throughout their shelf life, and are suitable for vegans.
Precautions:
Not suitable during pregnancy or breastfeeding unless under advice of a healthcare professional.