Solgar Calcium Citrate with Vitamin D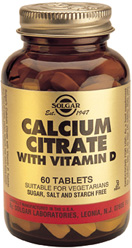 Solgar Calcium Citrate is a well absorbed form of calcium, combined with Vitamin D to ensure optimal absorption and utilisation. Calcium is not able to be properly utilised in the body if Vitamin D is deficient. Calcium is an essential mineral for bone health, and the healthy functioning of the cardiovascular and nervous systems.
Dosage:
Take one tablet up to four times daily as directed.
Precautions:
Take at least 2 hours away from medications.